In my pre- and early teen years I spent my summers with my grandparents at their cottage on Halfmoon Lake in Michigan.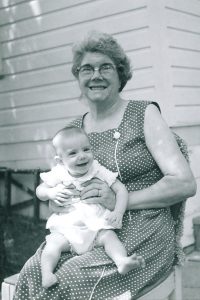 Most evenings my friends and I played canasta with my grandmother Bessie. She was in her element— animated, competitive, joking, story-telling, and smiling. Those evenings spent playing cards at the table in the knotty pine-paneled dining room are probably the clearest images I have of her, and they are wonderful warm memories.
I've covered Bessie in a few previous posts on this blog. This time, I'm introducing the pen I've named for her, and it's a jolly good match.
The pen is the Parker Duofold Centennial "Big Red." It's name and color harken back to pens the company made in the 1920s, the premier pen in their lineup at the time. And it's still the flagship pen of the modern incarnation of the Parker Pen Company.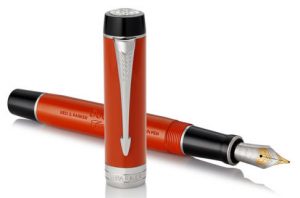 The nib of the pen is engraved with an ace of spades. There couldn't be a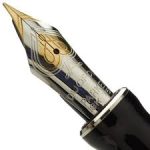 better homage to Bessie than a pen that when capped literally has an ace up its sleeve. Bessie would have loved the symbolism. She occasionally joked that one of us was holding one up ours when a card game was going against her. Conversely we'd tease her when she gleefully laid down a run of high-scoring aces.
The vivid color of the pen reminds me of Bessie's outgoing personality. She loved to be around people and she enjoyed being the center of attention. Most of my pens are staid, but this one is eye-catching. Bessie would have approved.
Interestingly, the pen company seems to trace the arc of Bessie's life migration, albeit in reverse. Bessie was born in England, of a family she was convinced was of French extraction. In her mid teens she relocated to Canada. Five years later she moved to America to marry my grandfather, and spent her adult life there.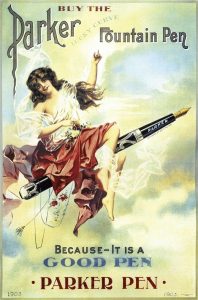 By contrast, the Parker Pen Company was born in America (in 1888, three years before Bessie), established one of their plants in Canada, and moved their company headquarters and manufacturing operations in the late 20th century to England. In 2011 the company again moved its headquarters and pen production, this time to France. This reverse arc can be seen as complementing or even closing the circle of Bessie's own journey through life.
So now that I have Bessie in hand, how does she stack up with other pens in my collection? Well, given that the Parker Duofold falls into about the same price range as the Pelikan M800 series pens, and that its length and girth are similar to the M800, and that they both have 18 caret gold nibs, I'll limit my comparison to those two pens.
Bessie fits well in the hand as does the Pelikan M800, which many people consider to be an ideal size. She has a longer grip section which gives her a bit of an advantage over Pelikan's surprisingly short section, though both are comfortable for writing.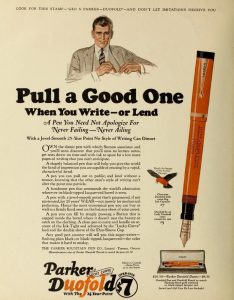 Bessie is an eye-catching color and gets points for splash. She's engraved with old-style Parker Duofold branding on the barrel that echoes predecessors from the 1920s, giving her a retro, classy look. Between her color and her styling she has both sass and class, much like her namesake. The Pelikan is more classically styled by comparison, but is the epitome of refinement and design. Looks wise, I call it a toss-up.
Bessie has a cartridge/converter ink supply system. This is where she looses points to the Pelikan, which uses a piston-fill ink system. The converter holds less ink, is noticeably lighter in weight than a piston filler, and doesn't have the same robust construction as the Pelikan. Some people might like a lighter pen, but I like the heft of the Pelikan and the balance the extra weight provides. I also find the Pelikan to be easier to fill.
Pens are not normally rated on sound, but I can't help but notice the difference in both pitch and volume when capping and uncapping the pens. Weird, huh? Bessie sounds metallic and tinny when waking her up or putting her to bed; the Pelikan is extremely quiet, and what little noise it makes is low pitched when threading or unthreading the cap. Bessie's high-pitched voice may lead to the impression she is less solid and uses lower quality materials than her avian brother, though I have no way of knowing if that's true.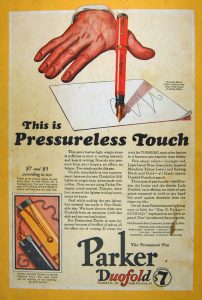 The 18-karat gold nib, made in-house by Parker, is a smooth writer and worked well right out of the box, something that not all of my pens have done. (Two of my three Pelikan pens required some polishing and tuning to achieve a good writing experience.) The Parker's broad nib lays down a wet, smooth line with absolutely no pressure required. It rarely skips or hard starts, making it a solid writer. Pelikan pens also make their own nibs in house, and they too are reliable writers. On the whole, the nibs are very similar, both in size and performance. The Pelikan's broad nib makes a somewhat finer line and provides a bit more feedback than the Parker, making the writing sharper and cleaner. Whether the smoother, wet line of the Parker or the sharper, drier line of the Pelikan is preferable is a matter of personal taste. I like them both.
Bessie's nib has a unique profile: the feed on the back of the nib doesn't have fins like other pens in my collection. This gives Bessie a slimmer, flatter nib profile, something that the human Bessie would have envied. (Does this nib make me look fat? No? Whew!) The lack of fins doesn't affect ink delivery to the paper—it's a juicy writer. Her profile is another way Bessie stands out from the crowd.

The pen is expensive, commensurate with it's flagship status, but can be obtained from overseas sources at about two-thirds of the U.S. asking price. I bought mine at Appelboom  (in the Netherlands) on Fountain Pen Day and received a 17% discount. During the rest of the year one can use the "friend" discount code to get a more modest 10% off. Another benefit of buying overseas is that the nib selection is wider, coming in Extra Fine, Fine, Medium, and Broad points whereas American retailers offer only Fine and Medium nibs. I got the broad nib to make my Bessie unique from her American cousins and to give my writing some flair. After all, I wanted to keep the pen's personality in line with my grandmother's.
The pen is a nice addition to my collection, something to pick up when I'm looking for a little color in my hand or pocket, or if I just want to think about Bessie and break out in a smile. It's my "ace up the sleeve."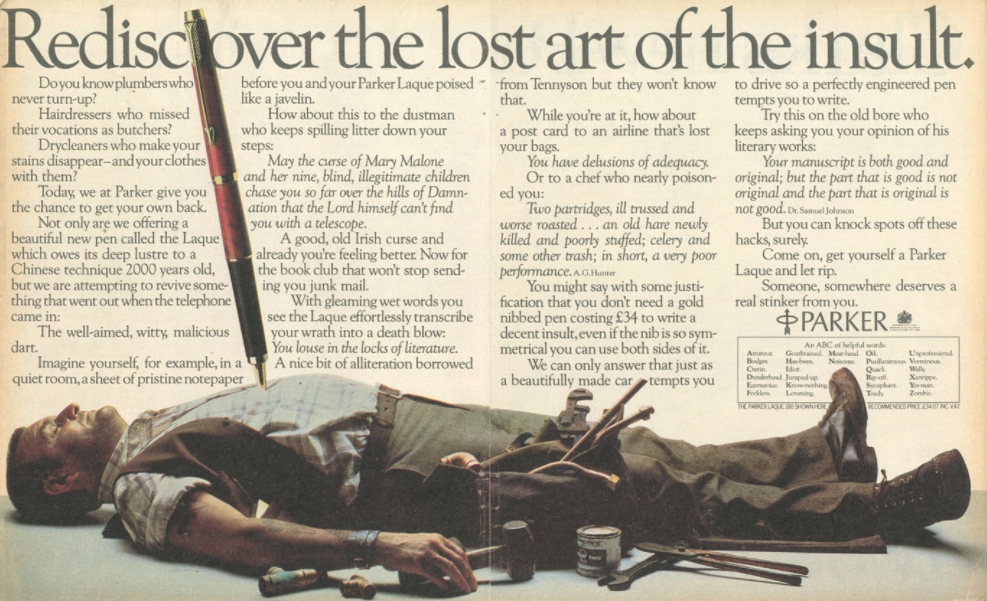 (As an aside, I recently came across an email in which my cousin recollected Bessie "telling her that in the orphanage in London [where Bessie spent six years] they ate oatmeal for breakfast, got a cube of brown sugar to put on top, and that she would wrap the sugar in her hanky for a treat later in the day." I like that story. A child can find comfort and happiness in the simplest of things, even in the face of adversity. I need to embrace the child in me more often.)