Some pens are easy to name — a Montegrappa pen with '1912' embossed on it screams my father's name 'Leonard' as he was born that year. An oversized Pelikan pen can easily be tagged as the 'Big Mac' to honor a McCrie great-grandfather.
The pen I'm naming after my mother, though, doesn't visually bring her to mind. The Edison Collier in my collection is brown, whereas my mother was fair skinned with blue eyes. It is a large pen, and my mom was short. It has a blunt stub nib, not at all reflective of my mother's well-rounded, easy-flowing friendliness.

But in the hand the pen's resin is silky soft and the pen's shape is exceptionally comfortable, and that tactile feel is what reminds me of my mom, a presence so warm and natural that it whispers her name. And so my Edison Collier pen has been named 'Jean.'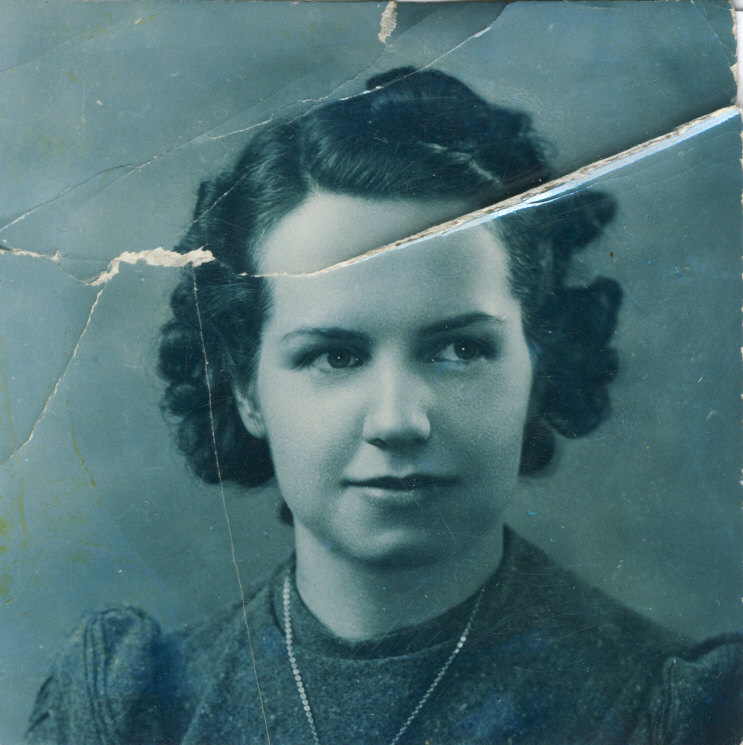 Admittedly I wanted a better hook to tie her to the pen. And there is one, though it's a bit of a stretch. The Collier is made in Milan, Ohio, the birthplace of Thomas Edison. The Edison Pen Company was named after the town's legendary inventor, who was born on February 11, 1847. My mom's birthday was also February 11th. Not exactly a slam dunk match, but a strong enough link to validate the connection between Jean and this pen.
The pen feels so good in the hand I use it every day, often to fill in a crossword puzzle or make the day's to-do list over breakfast. But like my mom, the baby of her family, it can be temperamental. First, a stub nib is not quite as easy to write with as a rounded point nib, though it is by no means difficult. Offsetting the stub nib's impishness, though, is the sass and personality it gives to one's handwriting, which assets my mom had in abundance and would have appreciated.
However, an annoying trait was the pen's ink flow problems, which caused difficulties in starting after uncapping and in running dry while writing. I tried wetter inks to no avail. I initially had a medium point nib and I replaced it with a stub, again to no avail. I flushed it several times with water and a cleansing solution and it still ran dry. Finally, I pulled out the converter and inked the barrel with an eyedropper, and that did the trick. It writes marvelously now, and with the barrel's large capacity, it shouldn't have to be re-inked any time soon. Admittedly, the ink flows so well now it tends to leak a bit into the cap, giving me ink-stained fingers when writing with the pen.
As a nod to my mother, I typically use blue ink in the pen to mirror the color of her eyes. I'm currently using Pelikan's Edelstein Topaz which is a nicely saturated light blue.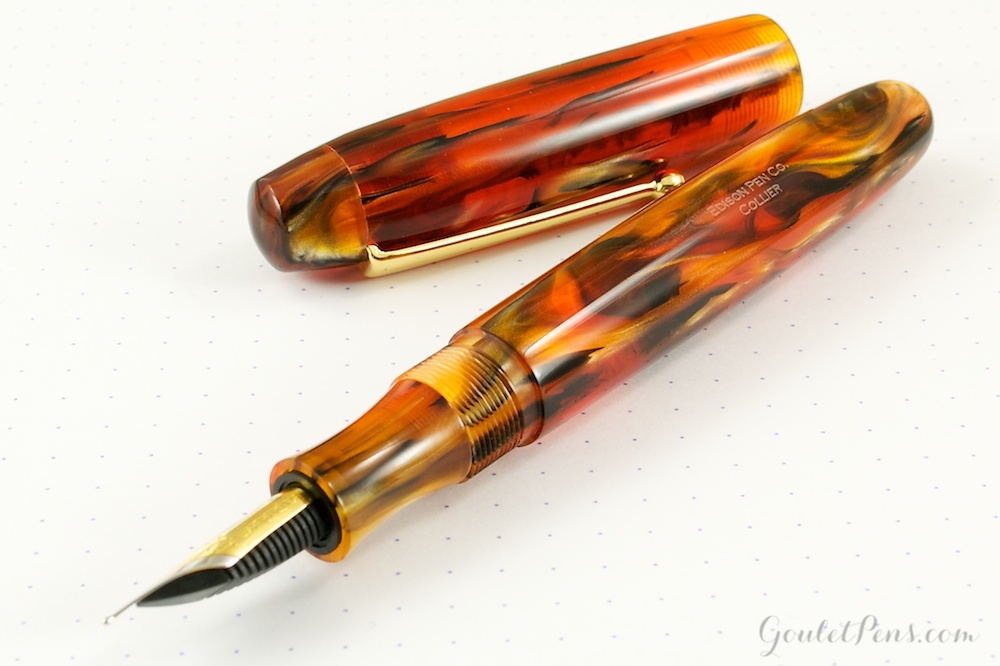 The Collier boasts a classic design in a light-weight, reasonably priced (around $150) steel nib pen. The brown swirl in the resin is eye-catching, and the light bulb etched on the nib is a nice nod to its place of origin. More impressive than looks, though, is how its resin feels so smooth, how its considerable girth rests nicely in the crook of the hand, and how its perfectly shaped grip section combine to make this instrument a pleasure to hold. The best pens are the ones you pick up often, and this pen will tempt you to do just that.