On the Trail of Bessie Estall's Family in London
---
This page is designed to share documents that trace Bessie's family's life in the East End. The article includes:
  • Links to the source documents
  • Orientation maps of the greater London and Bethnal Green areas
  • A family summary table showing Bessie's parents and siblings
The following narrative is a recap of the information gleaned from the source documents.
---
Bessie (nee Estall) Schutze, our grandmother, was born in London, England in 1891. The British Empire was at its height, but some neighborhoods of its capital city wallowed in incredible depths of poverty. Bessie's family lived in Bethnal Green in London's East End, one of the worst of those neighborhoods.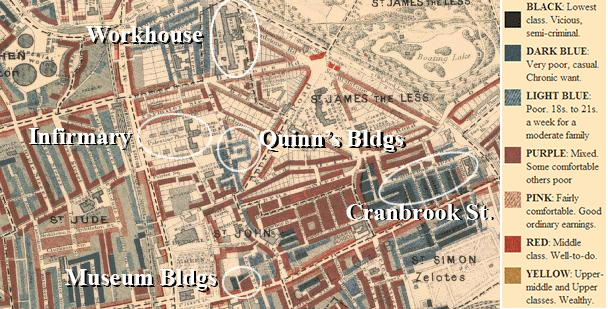 Charles Booth's Poverty Map of London, 1898
Her mother, Sarah Ann Hutchings, identified herself as a fur sewer in 1889, living on Cranbrook Street in an area known for its textile sweatshops and noted in the Poverty Map of London as a "very poor, chronic want" area. In the eight previous years she'd drifted through six different homes in the East End, including three stints in the Workhouse, and had three illegitimate children. She had no living relatives that she knew of and alleged that she couldn't recall where she'd been born.1 She was possibly a prostitute (by one account, one in eight women in the East End were),2 or at best, she was incautious with her affections. Her life turned a corner, however, when she met William Estall.
William Estall was a general labourer who picked up jobs on the London docks or wherever he could find them. Born into a family of weavers among the teeming masses of the East End, he joined the British Army at age 22 to find work and escape poverty. He was posted to Ceylon, but after numerous visits to military hospitals for bouts of fever, epilepsy, palpitation and other maladies, he was medically discharged in 1879 and ended up back in London.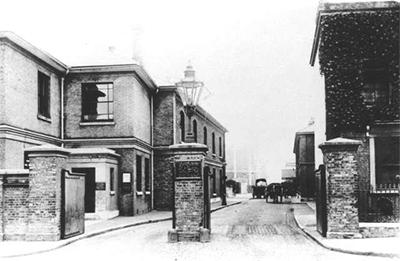 Crystal Palace District Gas Works, Sydenham
William set up house by 1881 with a Sarah (nee Whitmarsh) French and her two children, and together they had two children of their own: William and Ann, born in 1882 and 1885. They lived in the Lower Sydenham district of Lewisham, southeast of London, in a working class slum adjacent to a large gas works plant. Their relationship eventually ended, however, and Sarah Whitmarsh returned to her husband, continuing to raise son William with her other children by William French. Daughter Ann Estall went to live with her nearby maternal grandparents.
William returned to Bethal Green and met Sarah Ann Hutchings in 1889 shortly after her third illegitimate child, Thomas, was born. They set up house together, moving into a series of tenements and enrolling her children in neighborhood schools. Though his health was poor and work was unsteady, there is no evidence that he and Sarah were any different than many of their East End neighbors, raising a family and ekeing out a living under general conditions of overcrowding, chronic unemployment, low wages, squalor, and poverty.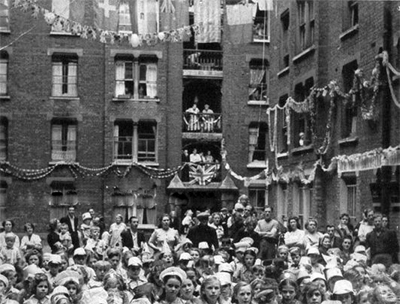 Quinn Buildings, Russia Lane
They married in 1891, three months before the birth of their first child together, Bessie. After a short stint living in the Museum Buildings tenement on Green Street, they moved to Quinn's Buildings on Russia Lane as their household grew with the addition of four more children. Their small rooms, sparsely furnished and likely without a bathtub, were in large, multi-family buildings in overcrowded, poor neighborhoods. But their children were born at home — rather than in the Workhouse where Sarah's previous children were born — and the children were getting educated in the public school system.
"A docker [dock worker] is a casual labourer. Work ebbs and flows, and he works or does not work according to the amount of goods on hand to be moved."3 There were too many dockers for too few jobs, and literally hundreds would gather at the dock gates seeking employment for the day. Those who were weakened by disease or age were at a disadvantage, and William had two stikes against him by the time he was raising Bessie. He began working 'on and off' for the vestry (local council) as a labourer, a job that at least kept him and his family out of the Workhouse — for a time.
Affected by the disease, filth, and poverty of the East End, fifty-five percent of children died before their fifth year.4 Sarah Ann's first-born, Alfred, died at the age of ten from an accident with a horse. Sarah's last child, Robert, died at the age of nine months. But as tough a blow to William as was his childrens' deaths, the loss of his wife in 1899 to acute meningitis, shortly after Robert's birth, sent him into a tailspin.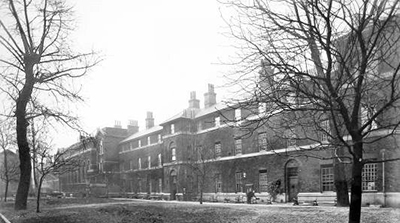 Bethnal Green Workhouse on Waterloo Road
William entered the Workhouse infirmary in February, 1900, less than two months after his wife's passing. He was suffering with bronchitis, a not uncommon ailment in smoke-polluted London. Two of his children were also sick, Bessie (8 years old), and his infant son Robert who ultimately died there. His step-son Thomas (aged 11), and daughters Susan (7) — later known as Lily — and Rose (5) were sent to the workhouse's Leytonstone School six miles away. His young son James, 3 years old, was taken in by another East End family, the Kent's.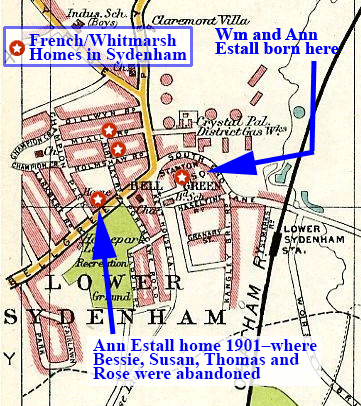 A year-and-a-half later, in May 1901, the children were released — Bessie from the infirmary and her siblings from the Leytonstone School — back to their father, whose stint in the Workhouse ended after prolonged stays in the infirmary. William, undoubtedly dispirited and in no shape to gain steady work or support his children, took them to Lewisham to live in Sarah Whitmarsh's father's household, which was where his daughter by Sarah Whitmarsh, Ann, was living.
However, by July of that year his four children — Thomas, Bessie, Susan (Lily) and Rose — were admitted to the Lewisham Workhouse as abandoned children.
William's whereabouts from then on are unknown, but he died five years later, in February of 1906, in Bethnal Green of an aortal anuerism (his daughter Bessie died of the same cause in 1975). His brother George's family, who were living nearby in Bethnal Green, reported his death.
At eight years old a motherless child, Bessie was abandoned by age ten when she was ushered into the Lewisham Workhouse.

North Surrey District School, Anerley, with the nearby Crystal Palace and its towers in the background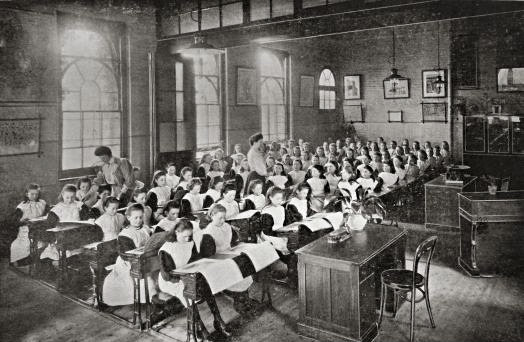 Girls Classroom, Anerley School

Bessie spent a few months in the Workhouse Infirmary, but joined her sisters at the Lewisham Workhouse's Anerley School, where the girls stayed for five years learning baking, cooking, sewing, and laundry as well as the basics in literacy and numbers.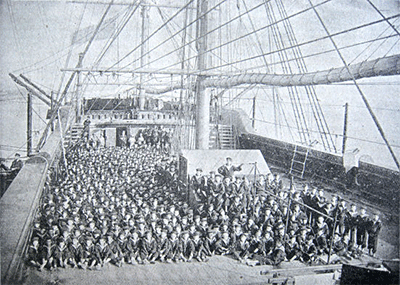 The Training Ship

Exmouth

Their brother, Thomas, was sent to the Exmouth Training Ship near Grays, a town 20 miles east of London on the River Thames. In 1904 he was released to the S.S. Turkistan, a coal cargo ship with routes to the Persian Gulf. In the fall of 1907, at age eighteen, Thomas joined the British Army. The quiet, introverted boy told one of his mates that he wanted to eventually join his sisters in Canada. That was not to be, however — three years after enlisting he committed suicide while stationed in Cairo, Egypt.

At the end of May 1906, Bessie and her sister Susan (Lily) were released from the Anerley School to the Macpherson School of Industry in Hackney, London, in preparation for a relocation to Canada. They left London Fields rail station in Hackney in July for a trip to Liverpool with the school's director, Mr. Merry, and a group of children. Bessie and Lily were sent by ship to Montreal and via rail to a home in Stratford, Canada, where they worked as domestic servants for five years.

As difficult as life had been in London, Bessie and Lily adapted well in Canada and later thrived in the United States where they married and raised their own families. Perhaps their difficult childhoods in London — from street poverty, to loss and abandonment, to poorhouse schools — prepared them especially well for life's challenges and gave them an appreciation for its simple pleasures.
---
The Rest of the Story
Bessie's older half-sister Harriett Hutchings, not having joined her family in the Workhouse in 1900, left home around the age of 13, and reportedly had four children before dying at age 24.5
Bessie's younger sister, Rose Estall, was released from Lewisham's Anerley School to the Macpherson agency in Hackney with her sisters in 1906, but not having gone to Canada, was re-enrolled in the Lewisham Workhouse system. She stayed a year in a "scattered home" — a smaller, home setting rather than a large institution — in Lewisham, but was moved back to Anerley School for another 2-1/2 years and released from school and the Workhouse system in 1909 at age 14. By 1911 she was adopted by the Kent family and reunited with her brother James. Thereafter she drops off the paper trail. Bessie believed that Rose died on a voyage to North America to join her sisters.
Bessie's younger brother, James Estall Kent, married Rosetta (Rose) Webb in 1921 in Enfield and raised a small family with her. We have a copy of a letter he wrote to Bessie's son Leonard which he was particularly pleased to sign "Uncle Jim" as he didn't have nieces and nephews of his own in England. He passed away in 1965 at age 68.
Bessie's half-brother William Estall, son of Sarah Whitmarsh, adopted his mother's married surname, French, and grew up with Sarah and her husband William French, a brush maker. William married in 1907 and was a sailor at the time of the 1911 census.
Bessie's half-sister Ann Estall, daughter of Sarah Whitmarsh, was raised by her maternal grandparents in Lewisham. She was a laundress when she married Hugh Duffy, a general labourer, in Lewisham in 1905. They raised a family there and she lived to the age of 86, passing away in 1971.
Sarah (nee Whitmarsh) French was working as a charwoman in Lewisham during the 1911 census and raising two unmarried sons. It appears she died in the 1930s in her late 70s or mid 80s.
---
Links to documents from Bessie's family's life in the East End are below. They provide evidence of a family's struggles and glimpses into their everyday lives.
Notes
1. Sarah Hutchings apparently manipulated the truth regarding her ability to recall where she'd been born. She knew her birthplace at the time of the 1891 census, yet claimed she didn't in 1889 when applying for entry to the Workhouse infirmary. The reason: the Bethnal Green parish workhouse could have refused her entry based on her birth (or 'standing') in another parish.
2. Neil R. Storey, A Grim Almanac of Jack the Ripper's London, 1870-1900. (Gloucestershire, England: The History Press, 2013), Kindle file, ch. 2.
3. Jack London, The People of the Abyss, (London, England: Macmillan, 1904) Kindle file, ch. 13. Additional docker information from Storey's A Grim Almanac of Jack the Ripper's London, ch. 4.
4. Jack London, The People of the Abyss, (London, England: Macmillan, 1940). Kindle file, ch. 21.
5. Per Bessie's recollection in 1970.

---
Bessie's Family

Father
William Estall

Born 1852
Served in Army 1874-1879
Married 1891 (age 38)
Died 1906 (53 years old)

Mother
Sarah Ann Hutchings

Born 1860
Met William Estall 1889
Married 1891 (age 30)
Died 1899 (39 years old)

Children

Alfred Hutchings (illegitimate), 1884-1894
Harriett Hutchings (illegmt), 1886-abt 1910
Thomas Hutchings (illegitimate), 1889-1910
Bessie Estall
, 1891-1975
Susan (Lillian) Estall, 1893-1982
Rose Estall, 1895-?
James Estall, 1897-1965
Robert Estall, 1899-1900
Half siblings (by Sarah Whitmarsh)
William Estall, 1882-?
Ann Estall, 1885-1971
Source Documents
Birth, Marriage, and Death Records
William Estall Baptism Register, 1852
Sarah Ann Hutchings Baptism Register, 1860
William Estall (son of William and Sarah Whitmarsh) Birth Certificate, 1882
Thomas Hutchings Birth Certificate, 1889
William Estall/Sarah Hutchings Marriage Certificate, 1891
Bessie Estall Birth Certificate, 1891
Susan (Lily) and Rose Estall Baptism Register, 1895
Rosie Estall Birth Certificate, 1895
James Estall Birth Certificate, 1897
Sarah Estall (nee Hutchings) Death Certificate, 1899
Ann Estall Marriage Certificate, 1905
William Estall Death Certificate, 1906

Census Records
1861 William Estall as an 8-year-old boy with his family in Bethnal Green
1861 Sarah Whitmarsh as a 7-year-old girl with her family in Bethnal Green
1871 Sarah Whitmarsh as a 17-year-old girl with her family in Bethnal Green
1881 William Estall living with Sarah (nee Whitmarsh) French and her two children in Lewisham
1891 William with his new wife Sarah Hutchings and her children ... eleven days before the birth of Bessie
1891 William's children by Sarah (nee Whitmarsh) French living in Lewisham (4 pages)
1901 A family fractured: William in the Workhouse; Bessie in the Infirmary; Susan (Lily), Rose, and Thomas in the Workhouse School; and James with his new adoptive parents John and Ellen Kent (12 pages)
1901 Ann Estall (Bessie's half-sister) living in Lewisham with grandfather (2 pages)
1911 James and Rose Estall living in Enfield with their adoptive parents, the Kents
1911 Sarah (nee Whitmarsh) French reporting information on herself and son William (born Estall) French in Lewisham (2 pages)

School Records
Essex Street and Globe Street Schools, 1890-1898 (5 pages)

Workhouse Records
Sarah Ann Hutchings, including births of her illegitimate children (11 pages)
William Estall, 1900-1901 (12 pages)
The Estall / Hutchings children at Bethnal Green, 1900-1909 (24 pages)
The Estall / Hutchings children at Lewisham, 1901-1909 (26 pages)

Orphange Record
Bessie Estall's Records with the MacPherson Organization and Orphanage in Stratford, Ontario (on order)

Military Records
William Estall, 1874-1879 (6 pages)
Thomas Hutchings (enlisted as Estall), 1907-1910 (6 pages)
Thomas Hutchings Suicide Inquest, 1910 (27 pages)

Emigration Passenger List
Ship Passenger Lists for Bessie and Susan (Lily) Estall's passage from England to Canada, 1906 (6 pages)

---
Orientation Maps
London Area

Bethnal Green