The Big Blow on Lake Huron
The worst storm ever to hit the Great Lakes occured in November, 1913, bringing tragedy to the Livingston's––a family all too familiar with losing their men.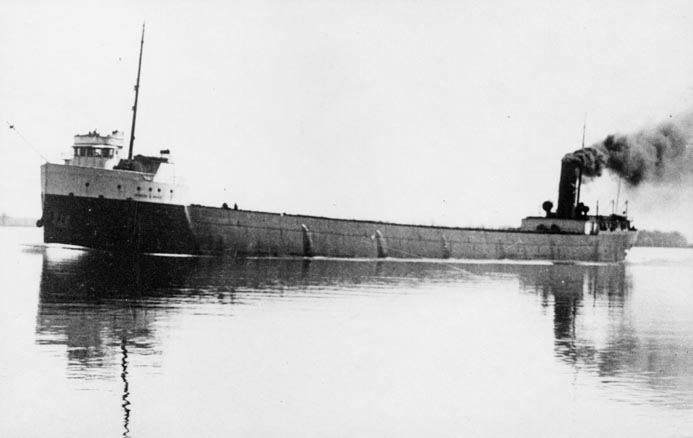 The Charles S. Price
In early November, 1913, blizzards paralyzed traffic across the Great Lakes states; streetcars were stranded by heavy drifts; train schedules had to be cancelled; areas around Lake Huron were under four feet of snow; telephone and telegraph lines were down across Michigan and Ontario.
Yet it was worse on the lakes. Coast Guard stations hoisted weather flag warnings of hurricane force winds on Friday November 7th, and by Sunday the gales were howling.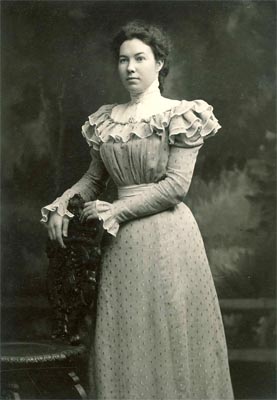 Flora (nee Livingston) Groundwater

The Big Blow sank forty ships and took the lives of 235 men and women on the lakes. Eight giant Lake freighters went to the bottom of Lake Huron, taking many of their crews with them. One of those ships was the 524-foot-long Charles S. Price, a bulk freighter carrying a load of coal north from Ohio. And the Chief Engineer on board was John Groundwater, the 40-year-old husband of Flora Livingston and father of four young children.

John Groundwater's assistant engineer, Milton Smith, decided to leave the ship in Cleveland on that Saturday morning after reading the weather forecast. Groundwater tried to talk him into making the voyage, arguing "Get that wild hair out of your nose and stick aboard. Why throw money in the bilge? The Price will be tied up for the winter inside of three weeks and you'll collect crew bonus on top of regular pay. Take my advice, son. Think it over." (See footnote 1)

Five days later Milton Smith was called to Port Huron from Cleveland to identify the bodies of his shipmates. The Price had gone down Sunday with all hands: 27 men and one woman. The storm flipped the giant freighter upside down, leaving its hull floating in Lake Huron for ten days before it sank to the bottom.

With no witnesses surviving, no one can say what the final moments were like for the Charles S. Price and her crew. Exploratory dives have found that her rudder is missing. Unable to see in the blinding snow, and unable to steer if she could, her top-side encased with sheets of ice, it is possible she fell into a trough and was rolled over by one of the mountain sized waves.(2)

The bodies from the doomed freighters began washing ashore along the Canadian side of Lake Huron, between Sarnia and Goderich, on Tuesday. Men with ice in their hair were found with their heads bowed across life preservers as if praying. Some were found wrapped in each other's arms or in frozen clusters. The steward of the Price was found with his apron, frozen stiff, still on him. As the bodies were discovered they were taken to lakeside towns where inquests were held and relatives or friends could identify them.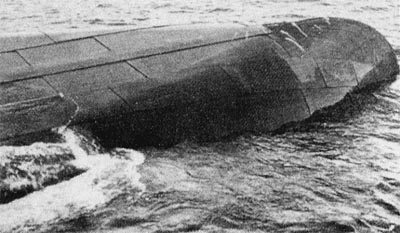 The overturned

Charles S. Price

In Thedford, Ontario, the bodies were lined up under blankets on the floor of a combination furniture store and funeral parlor. Milton Smith identified his first body there. "That's big good-natured John," he said of his Chief Engineer, Groundwater. "All the boys liked him."

"Are you sure?" asked the coroner.

"Sure I'm sure," replied Smith. "I worked under him all season. I saw him just last Saturday. I ought to know. Why? What's the trouble?"

"If he was Chief Engineer aboard the Price," said the coroner, "then why has he got a Regina life preserver wrapped around him?"

Speculation was that somehow the two freighters met in the storm, either ramming into each other, or perhaps drifting within sight of each other, allowing Regina crew members to throw life preservers to their capsized Price brethren.

Linda Talbott, the Chief Archivist of the U.S. Data Repository, Great Lakes Maritime History, provided me another take on the life preserver mystery. According to her, the truth may have been more ghoulish. Treasure hunters "had been robbing the bodies as they washed ashore. They picked their pockets clean, which only caused more confusion when trying to identify them. When the government made the statement that they would seriously prosecute anyone caught doing this, or with any property belonging to the dead crewmen, some items were returned. Of course, the thieves really didn't care what bodies they returned the items to. They just didn't want to be caught with the stuff. As a result, some of the lifebelts may have been returned to the wrong bodies."(3)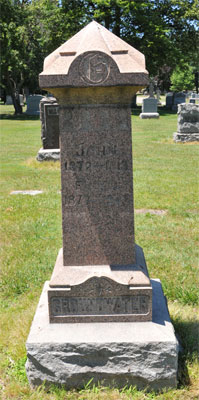 The Groundwater Memorial

in Evergreen Cemetery

John Groundwater is buried, along with his wife Flora and two of their children, in Detroit's Evergreen cemetery, a few lots down from Flora's sister Sarah (nee Livingston) McCrie. An obelisk marks the burial spot, with a simple headstone reading "Father, John Groundwater, 1872-1913."

John was a Gaelic-speaking Scotsman, born in 1872 on Orkney Island, at the country's northern tip, and was a sailor in his youth there. He emigrated to the United States at age 16, following an older brother's lead, and was naturalized in Cleveland at age 24. He married Flora Livingston in Mosa Township, Ontario, in January, 1904, where he was working as a railroad engineer. They had their first child in Detroit in December of that year and moved to Cleveland, where they had three more children. At his death his children ranged in age from two to eleven years old.

More information on the shipwreck can be found at Google Book's Great Lakes Shipwrecks & Survivals site, where you can search for John Groundwater.

Also helpful is the Great Lakes Maritime History site which has an article on the Charles S. Price.

The Detroit News also has an on-line article The Night 12 Ships Vanished on the Great Lakes that addresses the Great Blow and the fates of the ships and their crews, including John Groundwater.

Footnotes
1. All quotes attributed to John Groundwater, and a good deal of the source material, are from William Ratigan's book, Great Lakes Shipwrecks & Survivals, copyright 1960 and 1977.
2. Web site, Great Lakes Maritime History: SS Charles S. Price, http://www.us-data.org/mi/glm/shipwrecks/charles-s-price/, a project of the U.S. Data Repository, accessed 15 Jan 2013. This site provided the likely final-moments scenario.
3. Email between Linda Talbott and Jamie Schutze, 13 Jan 2013, subject: John Groundwater - Charles S. Price.