Scottish Naming Conventions
Many of our Scottish ancestors honored their parents by naming their children after them. It was a Scottish tradition that was popular well into the 1800s. Today it is a handy tool for finding or confirming ancestral lineage.
The naming tradition was:
  • First son named after father's father
  • Second son named after mother's father
  • Third son named after father
  • First daughter named after mother's mother
  • Second daughter named after father's mother
  • Third daughter named after mother
In the McCrie family, this tradition helped to research William McCrie's (born 1803 in Ochiltree, Ayrshire) ancestors. William's father and mother (Hugh McCree and Jean Brown) had four children: three sons and one daughter. We know that the second son and the first (and only) daughter were named after Jean's parents. We know that the third son was named after Hugh. Assuming the naming of the first son followed tradition, we believe that Hugh's father was named James. That points us to a James McCree in New Cumnock as a strong possibility for being Hugh's father, and will be the subject of further research.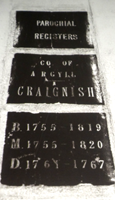 In the Livingston family, it helped to research Neil Livingston's and his wife Janet McNair's lineage. Most on-line family trees indicate that Neil was the son of Malcolm Livingston and Isabell McDougall, and most state that he was born 1792 on the Isle of Jura. If that were the case, he would likely name his first son Malcolm. But he didn't––his first son was named Duncan. And he apparently followed naming convention, as his first daughter, Sarah, and his second son, Neil, have the same names as Janet's parents. Further research showed that Neil's father was indeed named Duncan, as evidenced by Neil's marriage record in the Craignish parish register, which identifies his father as the late Dun[can], tenant at Aird. So we now know Neil was born to a Duncan and probably Mary (second daughter's name) Livingston. Unfortunately, the trail gets murky at that point, as none of Duncan's children's birth records include their mother's name. Based on all available evidence, I believe Neil was born to Dun Livingston in 1784 on the neighboring island of Scarba.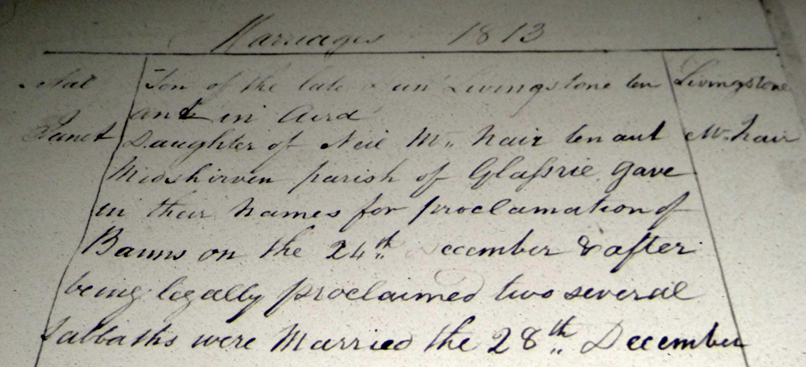 Though not perfect––since not all parents followed tradition in the naming of their children––the naming convention in Scotland has proven to be a valuable tool for genealogy research in our family. Many of our ancestors from the 1700's and 1800's honored those who bore them, and in the process gave us keys to their pasts.