Did Sects Affect Sex?
(or at least the recording of births?)
The church in Scotland was in perpetual turmoil throughout the 18th and 19th centuries, with secessions and splinterings brought about by differing beliefs about church governance and the church's relation to civil authority.
Since there was no civil – that is, government – registration of births, marriages, and deaths in Scotland until 1855 – after our families left for North America – the only vital records available are Old Parish Registers (OPR) maintained by the Established Church (Church of Scotland). That became problematic with the onrush of church formations and reformations.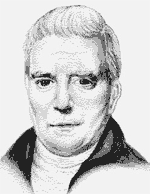 Thomas M'Crie
The Anti-Burgher
One example of this difficulty can be seen in the McCrie family. Only the two oldest of William and Margaret McCrie's eight children, born in Ayrshire between 1832 and 1851, have births recorded in parish registers. It's possible that William McCrie's intractable attitude1 toward the church resulted in his not registering the rest of his childrens' births. This thought is supported by looking at the birth registration of his second child. In it, he was apparently required to affirm that he was a Burgher,2 i.e., that he approved of the religion "presently professed in this kingdom," perhaps because of his teaching position. In fact, he appears to have been an Anti-Burgher,3 going so far as changing his last name from McCree to McCrie to honor an Anti-Burgher activist and scholar, Thomas McCrie.

Furthermore, according to the Scotland's People web site, registration in the Church of Scotland's registers was costly and unpopular, so many people didn't bother to register. That may explain why some of our ancestors in the traditionally poor highlands area – the Campbell's and Livingston's – are difficult to find in parish records. Or it may be, as the Scotland's People site goes on to explain, that "although entries for some non-conformists are found in Established Church registers, many members of other religious denominations chose to have events registered in their own churches instead."4
So how bad was the upheaval in Scottish religion in the 1700's and 1800's? Here's a partial chronology:
Year
Church
Event
1690
Church of Scotland
Adopts Presbyterianism
1732
Original Secession Church
Established in objection to the existing method of minister appointments
1747
Burghers
Affirmed approval of the religion "presently professed in this kingdom"
Anti-Burghers
Wanted greater separation of church and state
1798
Splintering into Auld Licht and New Licht Burghers
1806
Splintering into Auld Licht and New Licht Anti-Burghers
1761
Relief Church
Established in further objections to patronage system
1820
United Secession Church
Established by union of New Licht Burghers and Anti-Burghers
1822
United Secession Church
Expanded when Auld Licht Anti-Burghers join
1847
Free Church of Scotland
Formed by one third of Church of Scotland's congregation who embrace evangelicalism and object to patronage system of appointment of ministers
1852
United Original Secession Church
Some members split to join the Free Church of Scotland
1893
Free Presbyterian Church of Scotland
Split from the Free Church of Scotland
Footnotes:
1 The following story relayed by William's relatives and reported by Margaret McKechney in her McCrie Family Tree demonstrates an intractable streak in William's nature: "William as school master was a strict disciplinarian and although the marks of his birch cane have gone, he nevertheless left his mark on the memories of those whom he taught. A crisis came when one of the payments on the mortgage on the farm was due and William didn't have sufficient cash to cover it. It would be another week or two before he could get his crops harvested and sold so he decided to go to town (Sarnia) and ask for an extension on the mortgage. So with a heavy heart filled with foreboding and a light pocket book without any money, he started off to walk the nine miles from the home place. He had just reached the gate where he realized he had come away without a clean handkerchief. But he would not turn or face back. So, still facing the direction he was to take, he stood at the gate and hollered. He hollered and hollered until he was finally able to make himself heard. And he stayed right there until one of the younger children at last came out and placed his handkerchief in his hand stretched out behind him." Source: http://trees.ancestry.com/tree/24033023/person/1474041014/comments?pg=32768&pgpl=pid
2 Per the Anti-Burgher topic on the Wikipedia website, "The Original Secession church split in 1747 over the issue of the Burgher Oath, which required holders of public offices to affirm approval of the religion 'presently professed in this kingdom'. The issue was civil compulsion in religious affairs, but was effectively a forerunner of the arguments over the separation of church and state. Opponents of the Burgher Oath on theological grounds became known as the Anti-Burghers – showing a distinctive independence of conviction and an unwillingness to compromise over sincerely held beliefs." Source: http://en.wikipedia.org/wiki/Burgher_Oath
3 According to the William McCrie biography "McCrie Family: Scottish Teacher from Ayrshire" written by Doug Boylan, "I learned from Lori Hopper, a cousin and McCrie researcher, that William changed his name from McCree to McCrie in honor of a famous Scottish minister and theologian, Thomas McCrie. Thomas was a member of a Presbyterian sect call Anti-Burghers. In this light it is interesting that one of the church records indicated that the William McCrie family was Burghers, apparently in contrast to most of the other members of the Church... William may have had to take the [Burgher] oath in order to get his teaching position." Source: above mentioned biography emailed by Doug Boylan to James Schutze, 19 August 2012, subject: "mccrie".
4 From the ScotlandsPeople web site page entitled "Old Parish Registers." Source: http://www.scotlandspeople.gov.uk/content/help/index.aspx?613