Finding A Scottish Farmstead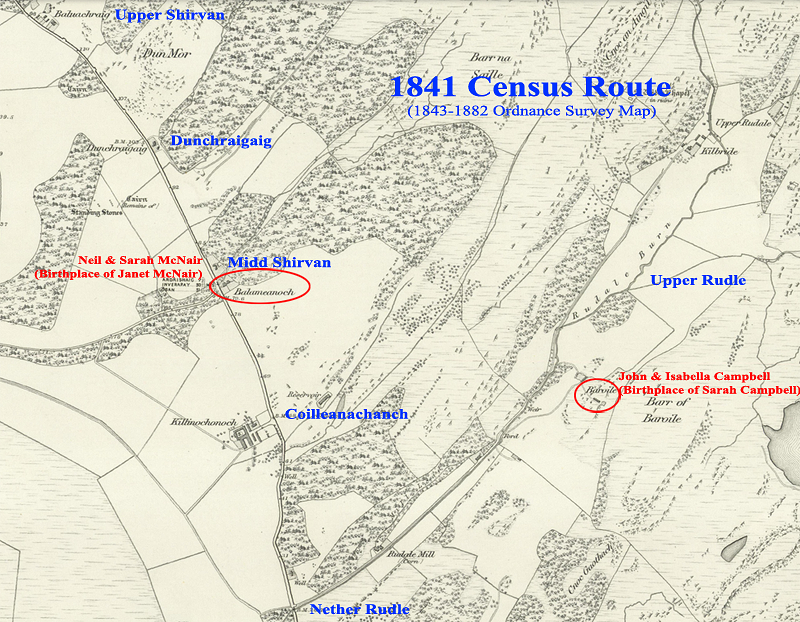 Pinpointing family farms in Scotland helps develop family lineages. Family units – parents and siblings – are more easily traced when their residences can be tracked in census or parish records. Plus, knowing where the family lived gives their offspring an opportunity to visit the old family homesteads either in person or via Google Earth.
Finding farms, however, is complicated by name changes over time. Frequently, pinpointing a site involves research in parish registers or censuses to find the farm name in the first place, then searching through historical maps, or combing through censuses, to correlate former and current farm names.
The Scottish highland area of Argyll is a good example of the challenge. Our Livingston and Campbell families lived in Glassary parish and the adjoining Kilmartin, Craignish, and Jura parishes until the early to mid-1800's. Each of their farmsteads had various names or spellings over time.
John and Isabella (nee Maclean) Campbell, parents of Sarah Campbell (my great grandmother), raised their family at the Baryle farmstead in Glassary parish according to birth registers. Plus the 1841 census places them at Upper Rudle. A Barryule farm exists near Rudell on a map from 1747*, and a Baroile farmstead near Upper Rudale on a map of 1843**. Both Barryule and Baroile are in the same location along the Reudell/Rudale Burn (creek), and are the only farmsteads in the area that resemble Baryle in spelling. We can conclude that the old Campbell homestead was at the current day Baroile farm ruins.
By the 1851 census, John and Isabella Campbell were living at the Auchachrom farmstead in the neighboring parish of Kilmartin. Plus John's gravestone says he was a tenant farmer at Auchrome. The 1843 map shows an Auchachrome farmstead near the town of Kilmartin – and near the Poltalloch estate, where we know his daughter Sarah went to school. There are no other farms in the parish that resemble those names. So we can say with certainty that the second Campbell homestead was at the current day Auchachrome farm ruins.
Harder to track was the farmstead of Neil and Sarah (nee McPhail) McNair, parents of Janet McNair (my great-great grandmother). They raised their children on the Shervane (or sometimes named Mid Shervane) farmstead in Glassary parish. Janet's marriage register also notes that she is from Mid Shirven. The only map with a similar name is from 1747, which denotes a Nether Servin. There was no Shervane/Shirven farm by the time of the 1843 map. Helpfully, however, the census taker used old farmstead names in the 1841 census, and his route can be traced. We can follow him down the current A816 highway (see map above) from Upper Shirvan (now Baluachraig), to Dunchraigaig, to Midd Shirvan (called Balameanoch on the 1843 map and now called Ballymeanoch) to Coilleanachanch (now Killinochonoch), to Nether Rudle (now Rudale), and on to Upper Rudle (now Upper Rudale). Following his route, we know that the Mid Shervane farmstead of old is currently called Ballymeanoch, birthplace of Janet McNair.
All of these locations can be seen via street or satellite view on Google Maps by going to the Map Room on this website or by going directly to the McCrie/Livingston Family History map on Google Maps.
* The 1747 map is the Roy Highlands - 1747-1752 map available for view at the National Library of Scotland website.
** The 1843 map is the Ordnance Survey Six Inch, 1843-1882 map available for view at the National Library of Scotland website.