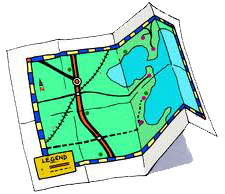 The Map Room
Click on a map below to open a new window with the Google annotated map indicated.
When done, close the window tab to return to this page.
Or click on paper maps to open an index of historical paper maps of where our families lived and worked.
---
Digital Maps
Follow the families as they moved through time and space via Google Maps.
Note: markers with dots indicate exact locations, while markers without dots show general locations.
Schutze and Schrotzberger


View Schutze / Schrotzberger History in a larger map


Schutze/Schrotzberger


McCrie and Livingston

View McCrie / Livingston History in a larger map
McCrie/Livingston

Bartlett and Brown

View Bartlett / Brown History in a larger map
Bartlett/Brown

Ehrlich and Parker

View Ehrlich / Parker History in a larger map
Ehrlich/Parker

---
Paper Maps
See where the families lived on maps published about the time they lived there.
Click here or on the map image below to open the page of "paper" maps from historical times.