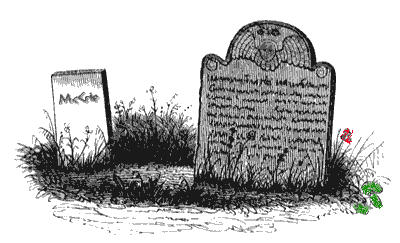 Finding
Graves
A moment's contemplation ... maybe leaving a flower ... even a conversation with the dearly departed, can be soothing to the soul and a bond to the past.
For those so inclined, or for those who enjoy a bit of a hunt, the table below can assist in finding the final resting places of our ancestors. To get a fix on gravesites, put the North and West coordinates in your GPS device. Or put the coordinates in the search box of Google maps and get a satellite view of the grave's location in the cemetery.
If a person has a gravestone icon, click on it to view a photo of the grave and additional information at the "Find A Grave" website.
If you want to help expand the table, send me readings for the graves you've discovered by following the "email me" link in the left sidebar.
---
Final Resting Places
| Last Name | First Name | Area | Cemetery | North | West | | Lived | Photo | Remarks |
| --- | --- | --- | --- | --- | --- | --- | --- | --- | --- |
| Anthony | Barney | Grawn, MI | Maple Grove | 44.65076 | -85.69613 | | 1810-1893 | | Husband of Jane; father of Anna McCrie. Plot: Lot 12 A4. |
| Anthony (nee Hannah) | Anna | Grawn, MI | Maple Grove | 44.65078 | -85.69654 | | 1819-1898 | | Wife of Barney; mother of Anna McCrie. Plot: Lot 12 A3. |
| Bartlett | John H. | Duplain Twsp, MI | Duplain | 43.04583 | -84.46469 | | 1821-1904 | | Husband of Nancy; father of James H. Bartlett. Plot 338. |
| Bartlett (nee Boise) | Nancy A. | Duplain Twsp, MI | Duplain | 43.04583 | -84.46469 | | 1827-1881 | | Wife of John H.; mother of James H. Plot 338. |
| Bartlett | James H | Owosso, MI | Oak Hill | 42.98274 | -84.16666 | | 1858-1927 | | Husband of Mary |
| Bartlett (nee Heist) | Mary Louise | Owosso, MI | Oak Hill | 42.98274 | -84.16666 | | 1874-1958 | | Mother of Lyle |
| Bartlett | Lyle | Owosso, MI | Oak Hill | 42.98274 | -84.16666 | | 1908-1968 | | Husband of Florence |
| Bartlett (nee Brown) | Florence | Owosso, MI | Oak Hill | 42.98274 | -84.16666 | | 1909-2000 | | Mother of James P Bartlett Sr. |
| Bartlett | James Peter | Owosso, MI | Oak Hill | 42.98309 | -84.16627 | | 1931-1988 | | Husband of Billie |
| Bartlett (nee Ehrlich) | Billie Elaine | Owosso, MI | Oak Hill | 42.98309 | -84.16627 | | 1933-2001 | | Mother of Cheryl Schutze |
| Beehler (nee Grow) | Beatrice | Owosso, MI | Oak Hill | 42.98331 | -84.16711 | | 1901-1967 | | Daughter of Milton Grow; cousin of Florence Bartlett |
| Bieri | Johann | Lowell, MI | Bailey | 42.97322 | -85.41041 | | 1836-1910 | | Husband of Elizabeth |
| Bieri (nee Roth/Rotta) | Elizabeth | Lowell, MI | Bailey | 42.97322 | -85.41041 | | 1838-1913 | | Mother of Christian |
| Bieri | Christian | Lowell, MI | Oakwood | 42.94533 | -85.33898 | | 1863-1957 | | Husband of Bertha |
| Bieri (nee Roth) | Bertha | Lowell, MI | Oakwood | 42.94533 | -85.33898 | | 1864-1914 | | Mother of Frieda |
| Brown | John L | Owosso, MI | Oak Hill | 42.98594 | -84.16895 | | 1827-1909 | | Husband of Susan |
| Brown (nee Rutledge) | Susan | Owosso, MI | Oak Hill | 42.98594 | -84.16895 | | 1832-1906 | | Mother of John J |
| Brown | John J | Owosso, MI | Oak Hill | 42.98596 | -84.16842 | | 1873-1956 | | Husband of Sadie |
| Brown (nee Grow) | Sadie | Owosso, MI | Oak Hill | 42.98596 | -84.16842 | | 1877-1951 | | Mother of Florence Bartlett |
| Brown | Howard | Owosso, MI | Oak Hill | 42.99501 | -84.16211 | | 1901-1995 | | Husband of Florence (nee Richards) |
| Brown (nee Richards) | Florence | Owosso, MI | Oak Hill | 42.99501 | -84.16211 | | 1904-1987 | | Wife of Howard Brown |
| Campbell | John | Kilmartin, SCT | Kilmartin Church | 56.13293 | -5.48613 | | 1796-1854 | | Husband of Isabella McLean; father of Sarah (Campbell) Livingston |
| Campbell (nee McLean) | Isabella | Alvinston, ON | Kilmartin | 42.80209 | -81.78185 | | 1801-1875 | | Wife of John; mother of Sarah (Campbell) Livingston |
| Campbell | Neil | Alvinston, ON | Kilmartin | 42.80209 | -81.78185 | | 1801-1875 | | Son (1st) of John; sister of Sarah (Campbell) Livingston |
| Campbell (nee Campbell) | Euphemia | Alvinston, ON | Kilmartin | 42.80214 | -81.78182 | | 1832-1910 | | Daughter (1st) of John; sister of Sarah (Campbell) Livingston |
| Campbell | Malcolm | Muswellbrook, NSW | Muswellbrook | -32.26118 | 150.90013 | | 1835-1905 | | Son (2nd) of John; brother of Sarah (Campbell) Livingston |
| Campbell | Donald | Alvinston, ON | Kilmartin | 42.80209 | -81.78185 | | 1841-1919 | | Son (3rd) of John; brother of Sarah (Campbell) Livingston |
| Campbell | John | Alvinston, ON | Kilmartin | 42.80209 | -81.78185 | | 1843-1860 | | Son (4th) of John; brother of Sarah (Campbell) Livingston |
| Ehrlich | Carl | Owosso, MI | Oak Hill | 42.98324 | -84.16665 | | 1868-1927 | | Husband of Elizabeth; father of Alfred Ehrlich |
| Ehrlich (nee Bitter) | Elizabeth | Owosso, MI | Oak Hill | 42.98324 | -84.16665 | | 1874-1953 | | Wife of Carl; mother of Alfred Ehrlich |
| Ehrlich | Alfred | Owosso, MI | Oak Grove | 42.99863 | -84.25243 | | 1912-1992 | | Husband of Irene |
| Ehrlich (nee Parker) | Irene | Owosso, MI | Oak Grove | 42.99863 | -84.25243 | | 1912-1973 | | Mother of Billie Bartlett |
| Ehrlich | Theodore | Owosso, MI | Oak Grove | 42.99840 | -84.25309 | | 1915-1993 | | Brother of Alfred |
| Ehrlich (nee Noe) | Ruth | Owosso, MI | Oak Grove | 42.99840 | -84.25309 | | 1912-2002 | | Wife of Theodore |
| Gardner (nee Livingston) | Margaret | Salt Lake, UT | Salt Lake City | | | | 1818-1893 | | Wife of Archibald |
| Gardner (nee Livingston) | Janet | Murray, UT | Murray City | | | | 1820-1904 | | Daughter of Janet (nee McNair) Livingston; sister of Margaret |
| Groundwater | John | Detroit, MI | Evergreen | 42.43816 | -83.12114 | | 1872-1913 | | Husband of Flora. Drowned in Great Lakes Storm |
| Groundwater (nee Livingston) | Flora | Detroit, MI | Evergreen | 42.43816 | -83.12114 | | 1872-1946 | | Sister of Sarah McCrie (nee Livingston) |
| Grow | Milton F. | Owosso, MI | Oak Hill | 42.98329 | -84.16714 | | 1875-1952 | | Husband of Lena; father of Beatrice Beehler |
| Grow (nee Mehlenbacher) | Lena | Owosso, MI | Oak Hill | 42.98329 | -84.16714 | | 1901-1967 | | Wife of Milton; mother of Beatrice Beehler |
| Heist | Jacob A. | Owosso, MI | Oak Hill | 42.98403 | -84.16763 | | 1844-1930 | | Civil War Vet, father of Mary Louise (Heist) Bartlett. Lot J |
| Heist (nee Rich) | Mary E. | Owosso, MI | Oak Hill | 42.98731 | -84.16784 | | 1851-1915 | | 2nd wife of Jacob Heist. Incorrect name, birth year on stone |
| Heist | William | Owosso, MI | Oak Hill | 42.99501 | -84.16211 | | 1880-1899 | | Son of Jacob and Mary Heist |
| Heist (nee Braun) | Louisa | Owosso, MI | Oak Hill | 42.98403 | -84.16763 | | 1868-1952 | | Third wife of Jacob A. Heist |
| Livingston | John | Alvinston, ON | Kilmartin | 42.80238 | -81.78193 | | 1826-1895 | | Husband of Sarah |
| Livingston (nee Campbell) | Sarah | Alvinston, ON | Kilmartin | 42.80238 | -81.78193 | | 1837-1914 | | Mother of Sarah McCrie |
| Livingston (nee McNair) | Janet | Alvinston, ON | Kilmartin | 42.80206 | -81.78120 | | 1794-1854 | | Mother of John, Duncan, and Margaret (Gardner) Livingston |
| Livingston | Duncan | Alvinston, ON | Kilmartin | 42.80206 | -81.78120 | | 1823-1864 | | Brother of John Livingston; son of Janet (nee McNair) Livingston |
| McCrie | William | Sarnia, ON | Bunyan Baptist | 42.93346 | -82.27910 | | 1803-1882 | | Husband of Margaret |
| McCrie (nee Miller) | Margaret | Sarnia, ON | Bunyan Baptist | 42.93346 | -82.27910 | | 1812-1887 | | Mother of John and James M |
| McCrie | John | Detroit, MI | Woodmere | 42.29573 | -83.13683 | | 1834-1890 | | Brother and mentor of James Miller McCrie |
| McCrie (nee Wilson) | Eliza | Detroit, MI | Woodmere | 42.29573 | -83.13683 | | 1842-1886 | | Mother of William W. |
| McCrie | William W. | Detroit, MI | Woodmere | 42.29573 | -83.13683 | | 1865-1892 | | Unmarried |
| McCrie | Edna "Dolly" | Detroit, MI | Woodmere | 42.29573 | -83.13683 | | 1869-1925 | | Unmarried |
| McCrie (nee Burrows) | Bertha | Detroit, MI | Woodmere | 42.29573 | -83.13683 | | 1847-1930 | | Second wife of John |
| McCrie | James Miller | Detroit, MI | Evergreen | 42.43797 | -83.12185 | | 1839-1912 | | Husband of Anna |
| McCrie (nee Anthony) | Anna | Detroit, MI | Evergreen | 42.43797 | -83.12185 | | 1847-1928 | | Mother of Jennie and James W |
| McCrie | Jennie Eliza | Detroit, MI | Evergreen | 42.43797 | -83.12185 | | 1873-1952 | | Daughter of James M and Anna |
| McCrie | James W | Detroit, MI | Evergreen | 42.43803 | -83.12166 | | 1878-1940 | | Husband of Sarah |
| McCrie (nee Livingston) | Sarah | Detroit, MI | Evergreen | 42.43803 | -83.12166 | | 1876-1963 | | Mother of Jean Schutze |
| McCrie | William J. | Novi, MI | Oakland Hills | 42.49677 | -83.4753 | | 1914-1998 | | Husband of Greta Maxwell |
| McCrie (nee Maxwell) | "Greta" | Novi, MI | Oakland Hills | 42.49677 | -83.4753 | | 1917-1992 | | Wife of William J. McCrie |
| Parker | William H | Lowell, MI | Krum | 42.95807 | -85.40138 | | 1819-1905 | | Husband of Sarah Ann |
| Parker (nee McWilliams) | Sarah Ann | Lowell, MI | Krum | 42.95807 | -85.40138 | | 1826-1870 | | Mother of George M |
| Parker | George M | Lowell, MI | Oakwood | | | | 1858-1934 | | Husband of Harriet B. Sec 11, Lot 110, Gr 1 |
| Parker (nee Miller) | Harriet B. | Lowell, MI | Oakwood | | | | 1867-1950 | | Wife of George. Sec 11, Lot 110, Gr 2 |
| Rourke | Michael | Owosso, MI | St. Paul's | 42.98214 | -84.18526 | | 1818-1898 | | Father of Ellen Rourke; grandfather of Mary (Heist) Bartlett |
| Rourke (nee Connor?) | Mary | Corunna, MI | St. Mary's | 42.95496 | -84.11972 | | Unkn-1867 | | Likely grave of Ellen Rourke's mother |
| Schrotzberger | Johann | Detroit, MI | Trinity | 42.37363 | -83.02722 | | 1823-1902 | | Father of Friederika Schuetze. No gravestone. |
| Schultz (nee Ehrlich) | Bertha | Owosso, MI | Oak Grove | | | | 1910-1980 | | Sister of Alfred Ehrhich. Section 1, Lot 44. |
| Schuetze | Herman | Stratford, ON | Avondale | 43.37131 | -80.99729 | | 1851-1909 | | Husband of Friederika |
| Schuetze (nee Schrotzberger) | Friederike | Detroit, MI | Trinity | 42.37363 | -83.02722 | | 1852-1892 | | Mother of Herman. No gravestone. |
| Schutze | Herman | Livonia, MI | Parkview Memorial | 42.39404 | -83.38094 | | 1891-1968 | | Husband of Bessie |
| Schutze (nee Estall) | Bessie | Livonia, MI | Parkview Memorial | 42.39404 | -83.38094 | | 1891-1975 | | Mother of Leonard |
| Schutze | Leonard P. | Sylmar, CA | Glen Haven Memorial | 34.31076 | -118.37483 | | 1881-1951 | | Son of Herman and Friederike Schuetze |
| Schutze | Leonard T. | Plymouth, MI | St. John's Episcopal | 42.36917 | -83.48056 | | 1912-1992 | | Husband of Jean, and later of Edith Duranceau. |
| Schutze (nee McCrie) | Jean | Detroit, MI | Evergreen | 42.43806 | -83.12161 | | 1917-1970 | | Mother of Elizabeth, James, and Sarah |
| Stanton (nee Bieri) | Frieda | Lowell, MI | Oakwood | 42.94533 | -85.33898 | | 1890-1991 | | Mother of Irene (nee Parker) Ehrlich |