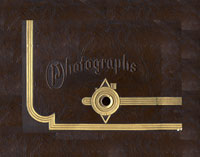 Family Photo Albums
Click on a link below to open a new window with a photo album.
Turn the pages of the album by holding the mouse over either the right or left sides of the album. Alternatively, clicking on a round button below the album will advance to that page.
When done, close the window tab to return to this page.
Be sure to check out the

albums first as they are the best of the bunch.
---
Bessie Estall's London
Photographs of Bethnal Green, London, depicting the environment in which Bessie Estall grew up from birth in 1891 to her emigration in 1906.
Florence (nee Brown) Bartlett's Albums
Florence Bartlett put together several albums. This link takes you to a page devoted to her albums of the Brown and Bartlett families.
Jean McCrie and Leonard Schutze with Frasers
Copies of photo negatives of Jean McCrie, Leonard Schutze, and Jim and Marie Fraser taken in the early 1940's. Jean and Marie worked at the Silhouette Camera Shop; Leonard, a customer, met Jean there and married her in 1941; the Schutzes and Frasers were friends throughout their married lives.
Schutzes Visit the Mead Farm
Photos from 1948 in which Sarah McCrie and the Schutzes visit the Mead family farm. Includes Sarah McCrie; Jean, Leonard, and Betty Schutze; Margaret, Max, and David Mead; and a special guest appearance by Vahanoush Z, a friend of Jean's.
Schutze Family Album
Assembled by Leonard Schutze, covering the years 1950 to 1956, including his family, the Bill McCrie Family, the Margaret Mead family, the Nedra Locker family, and Sarah McCrie.
Christmas on 14th Street, 1950
Album of photos taken by Leonard Schutze of his family Jean, Betty, and Jamie. Includes a picture of Katie MacKellar.
Schutze Christmas 1955
Copies of photo negatives developed in January 1956. Photos include Jean, Betty, and Jamie Schutze, Harold and Harold Lee Schutze, and Janet McCrie.
Meads Visit Detroit 1957
I believe these photos of the Schutzes and Meads at play in the backyard of the McCrie/Schutze house at 3087 14th Street were taken by Debby Mead (based on the handwriting on the backs of the photos). Pictures include Leonard, Jean, Betty, and Jamie Schutze; Sarah McCrie; Kate MacKellar; Margaret, Max, David, and Debby Mead.
Tulip Family Album
Put together by Jamie Schutze from photos provided by Angela Hanks. Photos of Anna Schutze and a few of her ancestors in the Tulip, Gould, and Sobottka families.
Craven Family Album
Photographs of the Bartlett, Ehrlich, and Craven families, mostly in 1969 and 1970, but a few older and newer family images. (Thanks to Teri Andrews for sharing.)
Billie (nee Ehrlich) Bartlett Memorial
Photographs from Billie's life put together by her children for her memorial in November 2001. (Thanks to Barry Link for digitizing and forwarding.)
McCrie Family Album
Sarah McCrie's album (I'm speculating), with pictures of the McCrie family reunions in Sarnia from the late 1940s, as well as Sarah's grandchildren (Betty and Jamie Schutze) and her church circle.
Grow Family Album
Frieda Grow's (nee Bieri) album, with photographs dating back as far as the 1880s. Unfortunately, almost all of the pictures were unlabeled, but Milton Grow (Frieda's second husband) is included. Still researching to discover additional names to put to these photographs on the Ehrlich and Brown sides of the family.
Jamie Schutze's 1st Birthday
Photos taken at the family home, 3087 14th Street, in 1950, including sister Betty and cousins Joan, David, Nancy, Ilene Locker.
Jamie Schutze's 2nd Birthday
Photos taken at the family home, 3087 14th Street, in 1951, including sister Betty and father Leonard.
Sarah Schutze and Her Siblings in 1959
Copies of photo negatives taken at the family home, 3087 14th Street, in 1959, the year Sarah was born. Includes sister Betty, brother Jamie, grandmother Sarah McCrie, and mother Jean Schutze.
Return to Scotland
The family returns in 2013 to the homeland of the Livingston, Campbell, and McCrie clans to step into the footprints of our Scottish ancestors.
Betty's 70th Birthday
Betty (nee Schutze) Nick's family gathers to celebrate her birthday.