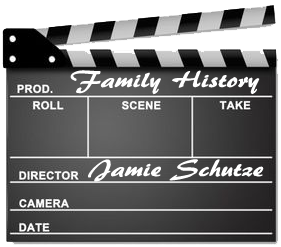 Video Clips
Click on a link below to open a new window with a video clip.
These are short clips of historic family sites or of family gatherings.
When done, close the window tab to return to this page.
These videos are compatible with the following browser versions


---
Bartlett Family Home Movies, 1960-1968
Seventeen film clips from the 1960s taken by James Bartlett, Sr., of his wife, children, and extended family.
Schutze Family Home Movies, 1940-1976
Clips from films made by Leonard Schutze of his and his wife Jean's extended families.
McCrie Family Home Site
Clip showing where James and Anna McCrie raised their young family in Grand Haven Michigan in 1880. Time: 1 min, 32 sec.
Anthony Family Farm Site
Clip showing where Barney and Jane Anthony lived, northeast of Grand Haven, from the 1870s through the 1890s. They were the parents of Anna Anthony, who married James Miller McCrie. Time: 5 min, 28 sec.
California Dreaming for Herman and Bessie Schutze
Video history of Herman and Bessie's time in California, including a clip of the home where their son Leonard Schutze was born in Los Angeles. Time: 4 min, 58 sec.