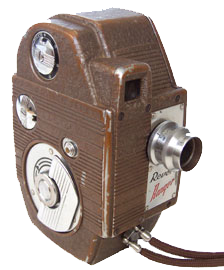 Schutze Family
Home Movies
Click on an image below to open a new window with the video clip.
Below are clips produced from 8mm films made by Leonard Schutze from 1940 to 1976.
Len was a family man and amateur photographer; the films expressed his love for both.
There is no sound track, so cranking up the volume will only fill your ears with deafening silence.
When done viewing the video, close the window tab to return to this page.
Clip
Scene
Location
Year
People

Winter 1940/1941
Time: 4 min, 32 sec
Street scene
Colfax St., Detroit
1940
Joan Moffat, Harold Schutze
Christmas
Colfax St., Detroit
1940
Joan Moffat, Herman Schutze, Nedra (nee Schutze) Moffat
Colfax Capers
Colfax St., Detroit
1941
Joan & Nedra Moffat, Herman & Bessie Schutze
Snowy Backyard
Colfax St., Detroit
1941
Joan Moffat
Toboganning
Halfmoon Lake, Pinckney
1941
Jean McCrie, Hugh Locker, Nedra Moffat, Leonard Schutze

Love Was a Snap
Time: 1 min, 32 sec
Camera Club
Train Trip to
Niagara Falls
Niagara Falls
1941
Marie Fraser, Jean McCrie, Len Schutze
Jean the
Photographer
Michigan
1941
Jean McCrie

Summer Fun 1941
Time: 4 min, 48 sec
Preparing the Boat
Halfmoon Lake
1941
Len Schutze, Herman Schutze, Sarah McCrie, Bessie Schutze
Splashing Good Time
Halfmoon Lake
1941
Harold Schutze; Joan, Nedra, Hugh Locker
Fishing
Halfmoon Lake
1941
Herman and Bessie Schutze
Ice Cream Marathon
Halfmoon Lake
1941
Nedra, Joan, Hugh Locker; Jean McCrie

Waterworks 1941
Time: 1 min, 57 sec
The Pump
Halfmoon Lake
1941
Bessie Schutze, Jean McCrie
Dogpaddling
Halfmoon Lake
1941
Joan Locker, Bessie and Herman Schutze, Jean McCrie, Leonard Schutze

Wedding Bells 1941
Time: 5 min, 2 sec
Locker Wedding
Detroit
1941
Nedra & Hugh Locker, Bessie & Herman Schutze, Jean McCrie
Schutze Wedding
14th Street, Detroit
1941
Leonard & Jean Schutze
Schutze Honeymoon
Upper Peninsula, MI
1941
Leonard & Jean Schutze

Autumn 1941
Time: 4 min, 20 sec
Fall Maintenance
Halfmoon Lake
1941
Nedra Locker, Bessie & Herman Schutze, Joan & Hugh Locker, Harold Schutze, Jean and Leonard Schutze, Margaret (nee McCrie) and Max Mead
Hunting
Halfmoon Lake
1941
Bessie & Herman Schutze, Harold Schutze, Jean and Leonard Schutze

Winter 1941
Time: 5 min, 46 sec
Autumn Colors
Halfmoon Lake
1941
Herman Schutze, Jean Schutze, Joan Locker
All Dressed Up...
Halfmoon Lake
1941
Jean Schutze, Bessie & Herman Schutze, Harold Schutze, Leonard Schutze
Skating
Halfmoon Lake
1941
Margaret Mead, Jean Schutze, Nedra Locker, Max Mead, Hugh Locker, Leonard Schutze
Christmas
Detroit
1941
Herman Schutze, Joan and Hugh Locker
Skating Party
Halfmoon Lake
1941
Nedra & Hugh Locker, Jean & Len Schutze, Margaret Mead, Harold Schutze

Spr/Smr 1942
Time: 2 min, 42 sec
Smiling Faces
Halfmoon Lake
1942
Bessie Schutze, Sarah McCrie, Jean & Len Schutze, Herman Schutze
Just Swingin'
Halfmoon Lake
1942
Harold Schutze, Jean Schutze, Sarah McCrie, Bessie Schutze
Hunting for Tadpoles
Halfmoon Lake
1942
Jean Schutze, Sarah McCrie
Sawing Logs
Halfmoon Lake
1942
Herman Schutze, Sarah McCrie, Leonard and Harold Schutze
Fishin' and Such
Halfmoon Lake
1942
Harold, Bessie, Herman, and Leonard Schutze

1943
Time: 2 min, 38 sec
Visiting Peter Duffy
Lake Orion, Mich.
1943
Jean Schutze, Peter Duffy, Sarah McCrie, Florence Groundwater
Livingston Sisters
Lake Orion, Mich.
1943
Sarah McCrie, Florence Groundwater
On the Road with JimMarie
Michigan
1943
Jim and Marie Fraser
Exploring the New Home
Georgetown, Washington
1943
Bessie, Len, Jean Schutze
Fall Colors
Washington, D.C.
1943
Bessie Schutze

Washington 1944
Time: 5 min, 7 sec
Len & Jean's Home
Washington, D.C.
1944
C & O Canal
Washington, D.C.
1944
Hot Summer Relief
Washington, D.C.
1944
Jean & Len Schutze
Sightseeing with Mother
Washington, D.C.
1944
Bessie Schutze, Jean & Len Schutze
Arlington Cemetery
Washington, D.C.
1944
Bessie Schutze

Baby Betty 1945
Time: 4 min, 45 sec
The Newborn
Washington, D.C.
1945
Betty Schutze
The Early Months
Washington, D.C.
1945
Betty Schutze
Christmas
Washington, D.C.
1945
Betty and Jean Schutze
Lil' Miss '46
Washington, D.C.
1946
Betty Schutze
Betty and Her Mom
Washington, D.C.
1946
Betty and Jean Schutze

Betty & Parents '46
Time: 7 min, 55 sec
Bouncing Betty
Washington, D.C.
1946
Betty and Leonard Schutze
Love of Food
Washington, D.C.
1946
Betty Schutze
Our with Her Folks
Washington, D.C.
1946
Betty, Jean, and Leonard Schutze
Early Steps
Washington, D.C.
1946
Betty Schutze
First Birthday
Washington, D.C.
1946
Betty and Leonard Schutze

Visiting Mich 1946
Time: 2 min, 57 sec
Visiting Schutze Family
Halfmoon Lake
1946
Betty Schutze; Nancy, David, Joan Locker
Visiting McCrie Family
14th Street, Detroit
1946
Betty Schutze
Music Makers
14th Street, Detroit
1946
Betty Schutze, Jimmy McCrie
Baby Janet
14th Street, Detroit
1946
Janet and Greta McCrie

New Kid in Town 1950
Time: 6 min, 02 sec
Film Debut
14th Street, Detroit
1950
Jamie Schutze
Older Sis
14th Street, Detroit
1950
Jamie and Betty Schutze
Dancing Cousins
14th Street, Detroit
1950
Betty Schutze, Janet McCrie
Playing in Back Yard
14th Street, Detroit
1950
Betty, Jamie, Jean Schutze
Roll Call
14th Street, Detroit
1950
Jimmy McCrie, Betty Schutze, Janet McCrie
Who Is That Girl?
14th Street, Detroit
1950
Jamie and Betty Schutze
Winter Fun
14th Street, Detroit
1950
Betty Schutze

Family Dynamics '51
Time: 5 min, 1 sec
Sibling Dynamics
14th Street, Detroit
1951
Jamie and Betty Schutze
The Grave Digger
Evergreen Cemetery, Detroit
1951
Betty, Jamie, Jean Schutze; Sarah McCrie
Role Playing
Halfmoon Lake
1951
Jamie and Betty Schutze
Cousin Dynamics
Indiana
1951
David Mead and Jamie Schutze

1952-1953
Time: 3 min, 16 sec
Dock, Dock, Goose
Halfmoon Lake
1952
Jamie and Betty Schutze, Janet and Jimmy McCrie, Jean Schutze, Sarah McCrie
Swings and Slides
River Rouge Park, Detroit
1952
Jamie and Betty Schutze
Winter Wonderland
14th Street, Detroit
1953
Jamie Schutze
Swimmin' and Swingin'
Niagara River, Niagara Fall, Ontario
1953
Betty and Jamie Schutze, a Peterson daughter

1954 Part 1
Time: 5 min, 33 sec
Talent Show
14th Street, Detroit
1954
Jamie, Betty, and Jean Schutze; Greta and Janet McCrie
Signing Party
14th Street, Detroit
1954
Jamie and Betty Schutze
Hugh's Birthday Party
Forrer Street, Detroit
1954
Jean, Betty, and Jamie Schutze; Hugh, Joan, David, Nancy, Ilene, Arthur and Evelyn Locker
Old Maid
14th Street, Detroit
1954
Jamie, Bessie, and Betty Schutze; Janet McCrie
Betty's Birthday
14th Street, Detroit
1954
Betty and Jamie Schutze; Janet and Jimmy McCrie

1954 Part 2
Time: 4 min, 47 sec
Backyard Picnic
14th Street, Detroit
1954
Betty and Jamie Schutze, Janet McCrie, Youman sisters
Family Picnic
River Rouge Park, Detroit
1954
Nedra, Joan, David, Nancy, Ilene Locker; Jean, Betty, Jamie Schutze; Janet McCrie
Christmas
14th Street, Detroit
1954
Jean, Betty and Jamie Schutze; Kate MacKellar
Xmas at Harold's
Pembroke Street, Detroit
1954
Nancy, Harold, Harold Lee Schutze; Betty and Jamie Schutze; Janet McCrie

1954 Scottish Dances
Time: 5 min, 00 sec
Boblo Boat
Detroit River
1954
Betty and Jamie Schutze, Janet and Jimmy McCrie
Piping in the Dancers
Boblo Island
1954
Betty Schutze
Penny Scramble
Boblo Island
1954
Jamie Schutze
Dancing Competition
Boblo Island
1954
Betty Schutze, Janet and Jimmy McCrie
Dancing Competion
Dutton, Ontario, Canada
1954
Betty Schutze, Janet McCrie
Dancing and Racing
Ohio
1954
Betty and Jamie Schutze

1955 Part 1
Time: 5 min, 13 sec
Sarah McCrie Birthday
14th Street, Detroit
1955
Sarah, Bill, Greta, Janet McCrie; Marie and Jim Fraser; Jean, Betty, Jamie Schutze
Marie Fraser Birthday
14th Street, Detroit
1955
Marie and Jim Fraser; Jean, Betty, Jamie Schutze
Kids Pool Party
14th Street, Detroit
1955
Janet McCrie; Betty and Jamie Schutze
Scottish Medalist
Unknown
1955
Betty and Jamie Schutze, Janet McCrie
Family Picnic
River Rouge Park, Detroit
1955
Herman, Bessie, Jean, Betty, Jamie Schutze; Sarah, Greta, Janet McCrie; Kate MacKellar; Nedra, Nancy, Ilene Locker
Harold's First Steps
Pembroke Street, Detroit
1955
Harold Lee and Nancy Schutze; Jean, Betty, Jamie Schutze; Janet McCrie

1955 Part 2
Time: 3 min, 1 sec
Thumb-er Vacation
Harbor Beach, Michigan
1955
Leonard, Jean, Betty, Jamie Schutze; Janet McCrie
Aboard the JimMarie
Lake St. Clair, Michigan
1955
Marie Fraser, Jean Schutze
Christmas
14th Street, Detroit
1955
Jean, Betty, Jamie Schutze; Janet McCrie

1956 Part 1
Time: 7 min, 56 sec
Post Xmas Visitors
14th Street, Detroit
1956
Betty and Jamie Schutze, Karen and Linda Roby
Chicken Pox
14th Street, Detroit
1956
Jamie and Betty Schutze
Sarah McCrie Birthday
14th Street, Detroit
1956
Sarah, Bill, Greta McCrie; Len and Jean Schutze; Marie and Jim Fraser
Sarah McCrie Party
14th Street, Detroit
1956
Sarah, Jimmy, Janet McCrie; Herman, Bessie, Len, Jean, Betty, Jamie Schutze; Kate MacKellar
Marie Fraser Birthday
14th Street, Detroit
1956
Jean, Betty, Jamie Schutze; Jim and Marie Fraser
Guild Tea
14th Street, Detroit
1956
Sarah McCrie, Kate MacKellar, Greta McCrie, Betty Schutze
Jean Schutze Birthday
14th Street, Detroit
1956
Herman, Bessie, Jean, Harold, Nancy, Harold Lee, Betty, Jamie Schutze; Hugh, Nedra, David, Nancy, Ilene Locker; Sarah, Bill, Greta, Jimmy, Janet McCrie; Marie Fraser

1956 Part 2
Time: 8 min, 1 sec
Jamie 7th Birthday
River Rouge Park, Detroit
1956
Janet McCrie; David, Nancy, Ilene Locker; Betty, Jamie, Harold Lee Schutze
Highland Games
Dutton, Ontario
1956
Jean, Betty, Jamie Schutze
Mead Visit
14th Street, Detroit
1956
Sarah McCrie; Jean, Betty, Jamie Schutze; Max, Margaret, David, Debbie Mead
Neighbor Girls
14th Street, Detroit
1956
Betty Schutze
Visiting the Meads
Fort Wayne, Indiana
1956
Jean, Betty, Jamie Schutze; Margaret, David, Debbie Mead
Len's '57 Chevy
Belle Isle, Detroit
1956
Jean, Betty, Jamie Schutze; Sarah McCrie

1957
Time: 8 min, 25 sec
Peonies
14th Street, Detroit
1957
Betty and Jamie Schutze
Meads Visit Detroit
14th Street, Detroit
1957
Jean, Betty and Jamie Schutze; Sarah and Janet McCrie; Max, Margaret, David, and Debbie Mead; Kate MacKellar
Honeysuckles
14th Street, Detroit
1957
Betty and Jamie Schutze
Thanksgiving
14th Street, Detroit
1957
Jean, Betty and Jamie Schutze; Sarah, Bill, Greta, Jimmy, and Janet McCrie
Turkey Leftovers
14th Street, Detroit
1957
Jean, Betty and Jamie Schutze; Sarah McCrie; Herman and Bessie Schutze
Christmas
14th Street, Detroit
1957
Jean, Betty and Jamie Schutze; Sarah McCrie; Vehanoush Zakarian
Tobogganing
Detroit Area
1957
Betty and Jamie Schutze; Jimmy and Janet McCrie

1958
Time: 8 min, 37 sec
Sarah McCrie Birthday
14th Street, Detroit
1958
Sarah McCrie; Bill, Greta, Jimmy, Janet McCrie; Kate MacKellar; Herman and Bessie Schutze; Jean, Betty, Jamie Schutze
Jean Schutze Birthday
14th Street, Detroit
1958
Jean, Betty, Jamie Schutze; Sarah, Janet McCrie; Jim and Marie Fraser
Jean's Birthday Part II
14th Street, Detroit
1958
Jean, Betty, Jamie Schutze; Sarah, Bill, Greta, Janet McCrie; Nedra, Hugh, David, Nancy, Ilene Locker; Harold and Nancy Schutze; Herman and Bessie Schutze
Family Picnic
River Rouge Park, Detroit
1958
Jean, Betty Schutze; Sarah, Greta, Janet McCrie; Nedra, David, Nancy Locker; Harold and Nancy Schutze; Kate MacKellar; Herman and Bessie Schutze
Visiting the Meads
Mishawaka, Indiana
1958
Margaret, David, Debbie Mead; Betty and Jamie Schutze
Family Picnic
River Rouge Park, Detroit
1958
Jean, Betty, Jamie Schutze; Arthur, Evelyn, Hugh, Nedra, David, Nancy, Ilene Locker; Nancy, Harold Lee, Gary Schutze; Herman and Bessie Schutze

Sarah's Debut 1959
Time: 5 min, 48 sec
The Two Sarahs
14th Street, Detroit
1959
Sarah McCrie and Sarah Schutze
Sarah's First Bath
14th Street, Detroit
1959
Sarah and Jean Schutze
Family Time
14th Street, Detroit
1959
Sarah, Jean, Leonard, Betty, Jamie Schutze
Mead Family Visit
14th Street, Detroit
1959
Max, David, Debbie Mead; Jean, Betty, Jamie, Sarah Schutze; Kate MacKellar; Sarah McCrie
Sarah Tries Flipping
14th Street, Detroit
1959
Sarah and Jean Schutze

1959 Part 2
Time: 3 min, 52 sec
A Pair of Sisters
Mishawaka, Indiana
1959
Jean, Betty and Sarah Schutze; Margaret Mead
Sarah and Her Sibs
Halfmoon Lake, Michigan
1959
Betty, Jamie, and Sarah Schutze
In the Back Yard
14th Street, Detroit
1959
Jean, Betty, and Sarah Schutze

1960
Time: 3 min, 32 sec
Sarah's First Steps
14th Street, Detroit
1960
Jean, Jamie and Sarah Schutze
Sarah's First Birthday
14th Street, Detroit
1960
Leonard, Jean, Betty, Jamie, and Sarah Schutze; Sarah McCrie; Jim and Marie Fraser

1961 Part 1
Time: 3 min, 15 sec
Runnin' Around
14th Street, Detroit
1961
Sarah Schutze
On the Beach
Halfmoon Lake
1961
Sarah and Betty Schutze
In the Back Yard
14th Street, Detroit
1961
Sarah, Betty, and Jamie Schutze

1961 Picnics
Time: 7 min, 15 sec
Schutze/McCrie Picnic
River Rouge Park, Detroit
1961
Leonard, Jean, Betty, Jamie, Sarah Schutze; Bill, Greta, Janet McCrie
Schutze/Locker Picnic
River Rouge Park, Detroit
1961
Jean, Betty, Jamie, Sarah Schutze; Harold, Nancy, Harold Lee, Gary Schutze; Shirley Travis; Evelyn, Hugh, Nedra, David, Nancy, Ilene Locker
Family Picnic
River Rouge Park, Detroit
1961
Leonard, Jean, Betty, Jamie, Sarah Schutze; Harold, Nancy, Harold Lee, Gary Schutze; Shirley Travis; Arthur, Evelyn, Hugh, Nedra, David, Nancy, Ilene Locker

1976
Time: 3 min, 36 sec
Len's Back Yard
Pembroke Street, Detroit
1976
Vincent and Betty Meehan
Wanderlust / Wonderlust
Pembroke Street, Detroit
1976
Vincent Meehan and Sarah Schutze
Hip(py) Deep Snow
Pembroke Street, Detroit
1976
Jamie Schutze
Movie clips that didn't fit neatly into categories above

Bonus Reel
Time: 4 min, 3 sec
Gas Calliope
Sugar Grove, Ohio
1940
Quirky clip of "smoke" rings
Winter Wonderland
Niagara Falls, Ontario
1941
Interesting views of the frozen snow and ice around the falls
Dam Site of Hell
Hell, Michigan
1941
Very short clip of the water flowing over the dam at Hell
Rites of Fall
Halfmoon Lake, Michigan
1944
Herman and Harold Schutze hunting rabbits
Paperwork
14th Street, Detroit
1950
Jamie Schutze in training (potty training, that is)
Running Backward
Mishawaka, Indiana
1959
Fun with running a reel of film backwards