The Pelikan M1000 fountain pen is large, the largest in Pelikan's Souverän line. In my tradition of naming pens for my ancestors, this pen is being dubbed the Big Mac.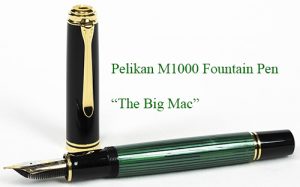 It's named after James Miller McCrie, my great-grandfather. With a name like McCrie, someone must have called him Mac at some point in life.
James McCrie worked as a foreman at grain elevators in Grand Haven and Detroit, Michigan. These elevators were large, like the pen, looming over their surrounding landscapes and visible for miles around. The Grand Haven elevator's sharply angled roof line reminds one a bit of the shoulders of a fountain pen nib. And the elevators were filled with the product of waving rows of grain from farms throughout the mid-west, echoed in the green stripes of the pen.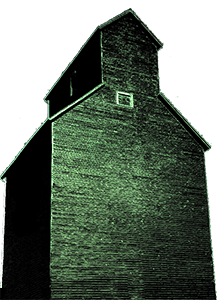 James McCrie was born in Ayrshire, Scotland in 1839, the son of a farmer/teacher. He emigrated with his parent's and siblings to Canada when he was starting his teenage years in 1852. Under the aegis of his oldest brother he learned carpentry and worked for the railroad in western Michigan. Upon marriage to Anna Anthony in 1872 he began raising a family in Grand Haven on Lake Michigan and started a career as a grain elevator operator for the railroad.
When his children were young the family moved to Detroit where James worked as a weigh master and foreman at the railroad's grain elevators on the Detroit River. The grain dust eventually affected his lungs, forcing him into retirement in his 60s.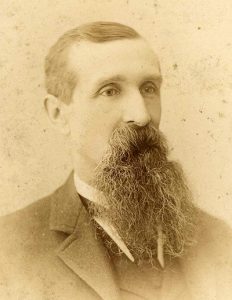 According to his granddaughter, "although James worked twelve or more hours a day on the job, he spent his time at home building cabinets, window seats, shirt boxes, etc. He enjoyed woodworking and used his carpentry skills to add conveniences to the household. He often read aloud to the family. His favorite physical activity was walking." In short, he seemed to lead a pretty quiet life. He passed away at age 72 in Detroit.
This summer I plan on visiting Grand Haven and following James's footsteps from his home on Lake Avenue to the nearby dunes and Lake Michigan shoreline. If he loved to walk, I'm sure he went this way on many an evening and weekend. There's also an ice cream shop on the Grand River where the elevator once stood a hundred or so years ago; I'll pay a cooling visit there too.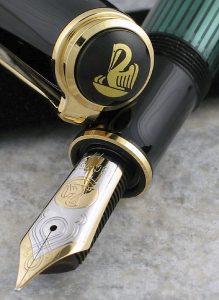 The Pelikan I've named in his honor is not as quiet as was James, and that's a shame. The nib has an annoying habit of "singing" when I write in cursive. Beyond the screech, however, the pen is a joy to hold and pleasurably springy to write with, given the nib's gold content and its massive size — the nib is the size of the last joint on my pinky finger.
I generally ink up the pen with a dark green ink to mirror its green barrel; currently I'm using Diamine's Sherwood Forest ink. They work well together, but the pen also worked well with an antique Scrip Washable Blue ink so it appears the pen is easy to get along with.
I'm guessing James McCrie was the same way.